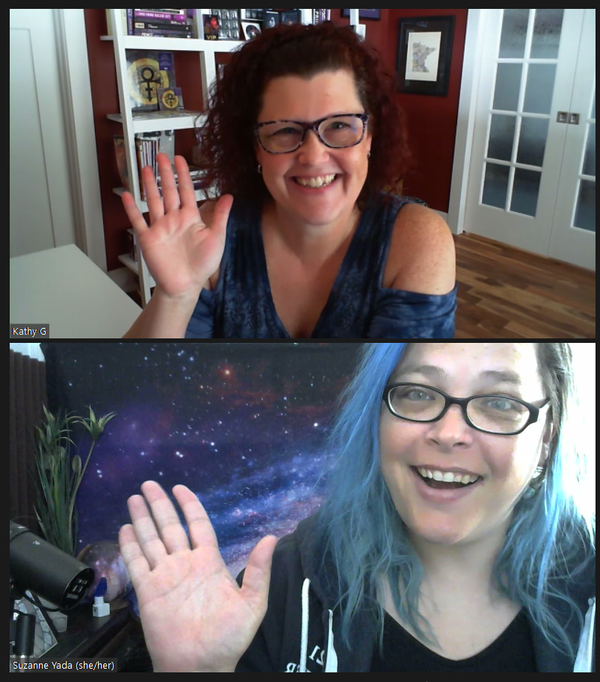 Hello Little Spiralings! My name's Kathy and I'm the new manager on the @ Little Spiral @ team. 
Suzanne and I have been busy chatting about what's next for her in the weeks and months ahead. 
Some of you may have received an email or Facebook message from me over the last month or so. However, I wanted to write a personal note here on Spiral's blog as she moves into some new and exciting projects. All of you are SO important in her journey, I felt it was important to touch base, introduce myself and send my appreciation to all of you! 
First, you'll be hearing about some cool new projects coming in the next couple of months— This includes a LIVE album recorded from her Concerts for Introverts series (were you there?!), studio-produced EPs, and a few singles. With all this coming quickly, I thought it would be best to add additional listeners to the mix.  
We came up with this idea of a fan-specific contest that includes giving away a few gifts in the process. And we're encouraging old and new fans to add, follow and/or listen to her music on a number of different platforms.  
I know for myself, I follow a lot of bands, but I usually only follow them in one place. Much of the time, I'm not even aware of other platforms they may be on. We're definitely aware that you may be following Spiral in numerous places, but there may be a few apps you may frequent daily or weekly where you can add or follow her as well (I tend to always forget about one!). Obviously, this helps get her music out to more people (gotta love these algorithms!) so folks can enjoy anywhere, no matter what device. 
Second, we've launched this contest alongside some new promotional projects, and we thought it would be great to devote part of our ads budget to put that money right back in the hands of fans (YOU!). That's why you'll be entered with a chance to win a $40 Visa gift card and some @ Little Spiral @ merch as a big thank you for following her on as many platforms as you can. A few of you have said "I don't need anything I just want to help!" which is awesome too! We're also aware of the times right now and $40 can go a long way sometimes.. So help as you feel fit and share the love! 
Here's how to enter the contest: https://www.toneden.io/little-spiral/post/little-spiral-giveaway 
THANK YOU from the bottom of my heart for being such a big supporter of Spiral's music! 
In music and rhythm, 
Kathy G